Lighting Tips and Tricks for Your Trick or Treating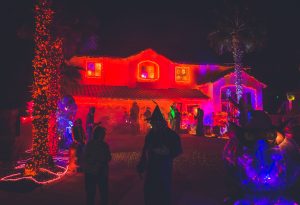 Halloween is just around the corner and if you celebrate it, it is likely that you have started to think about your Halloween decorations. One of the best parts of Halloween is setting up those spooky yard displays and lighting. As you and your neighbors start decorating with Halloween lighting, Right Electrical Services has a few tips and tricks you can use to create a display that trick-or-treaters will love. As always, safety is key and we'll be including a few electrical safety tips as well. Get the fall season started off right with these Halloween lighting tips and tricks for your trick or treating!
Halloween Black Lights
Looking to make your Halloween decorations a little extra spooky? The kids will love the creepy effect added by Halloween black lights. Black lights are easily installed and you can switch out your already existing exterior porch lights for an eerie (yet silly) black light effect. It's also a good idea to use LED bulbs in all of your Halloween lighting projects as they won't overheat the way that standard bulbs will after a lot of use. 
Light Your Pathways
It's really important to practice the necessary safety measures when decorating for Halloween. With the most popular times for trick-or-treating being between 5:30 PM and 9:30 PM, you should take the necessary precautions to ensure that the little ones are able to navigate through your yard safely. The best way to do this is by installing lighting that keeps your pathways lit. This will diminish the chance of any unnecessary slips and falls.
Many parents warn their kids to avoid houses that aren't well lit and for very good reason. By ensuring that your pathways are lit properly, you will likely receive more trick-or-treaters and can keep them safe as they come and go from your doorstep. If you don't already have existing pathway lighting, one of the easiest ways to keep everything safe is by adding a few pumpkin buckets with LED lights up and down your pathways.  
Use Strobe Lights Sparingly
Strobe lights are an incredibly popular Halloween lighting option but, if overdone, they can be headache inducing. If you feel like adding some strobe lights to your Halloween lighting setup, make sure to use them sparingly. If not set up in precisely the right way, strobe lights can make your decorations look cheap or gimmicky. It may be best to consider setting up lighting that flickers at slower intervals to create a creepy effect.
Get Creative With DIY Decorations
If you want to do something a bit more creative and hands on with your Halloween lighting decorations, consider crafting your own DIY decorations! This is a lot of fun for the kids and can also be great for saving a pretty penny on Halloween lighting. 
One family favorite Halloween decorating activity involves green glow sticks. Crack a green glow stick, insert it into a white balloon and then inflate the balloon. You can then tie it off and use black markers to draw anything from cute jack-o-lantern faces to ghostly ghouls. After making as many of these fun Halloween balloons as you would like, you can get some tape and hang your balloons anywhere you like. 
Use Halloween Lighting to Create Ghostly Visitors
One really fun way to spook up your Halloween yard display is with battery-operated fluorescent lights. You can create some ghostly visitors with a few simple materials including chicken wire, liquid fabric starch, and cheese cloth. You can use the chicken wire to create a ghost-shaped form and then affix the fabric starch and cheese cloth to it for that phantom-like effect. Next, take your battery-operated fluorescent lights and situate them underneath to create an ethereal glow. This fun little Halloween lighting decoration will make your house a favorite for all of your neighborhood trick-or-treaters!
Keep Extension Cords Out of High Traffic Areas
It is important to remember that any and all extension cords used for your Halloween lighting decorations are kept out of high traffic areas. Take care to make sure that your extension cords aren't running directly through walkways or driveways and are out of the way of any doorways. This will ensure that there isn't a tripping hazard when the trick-or-treaters come knocking. 
Inspect All Of Your Old Halloween Lights Before Use
If you will be pulling out some favorite Halloween lights from years passed, make sure to inspect and test all of your lights before plugging them in. This should be done to ensure that none of your lights have loose or frayed connections and/or wires. Plugging in damaged Halloween lights can be an extreme fire hazard so make sure to do the necessary inspections before getting started!
Use Those GFCI's!
A ground fault circuit interrupter (GFCI) outlet will do a lot of good for giving you that added shock protection for your outdoor Halloween lighting decorations. A GFCI outlet offers an extra amount of protection by detecting interruptions in the electrical current and immediately cutting off power. Make sure to use those GFCI outlets when working with your Halloween lighting. Better safe than sorry!
Turn Your Halloween Lights Off When the Night is Over
Keeping your Halloween lights turned on when you're sleeping or away from the house poses a pretty big fire hazard. Always make sure that your Halloween lights are only turned on when you are home and awake to supervise. If you can't be around to make sure that your lights are turned off, make sure to set a timer before you go to bed. Halloween lights can be a lot of fun but you need to make sure that you aren't taking any unnecessary risks!
Wishing You a Happy Halloween!
Right Electrical Services wishes a Happy Halloween to all that celebrate. Make sure to use these Halloween lighting tips to keep your festivities fun and (most of all) safe for all! As always, give us a call or send us a message if you need a licensed electrician. We'll be happy to help!
Contact Us
Phone: (919) 359-1017
Email: rightelec@gmail.com